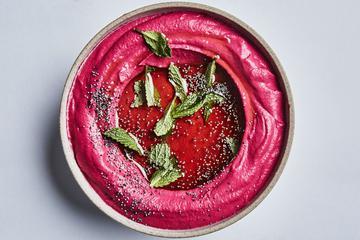 Spring is the season for fresh fruits and vegetables such as apricots, asparagus, mangoes, peas, watercress, and more. What better way to celebrate this season than to incorporate these fresh foods into our recipes?
1. Grilled Apricots with Burrata, Country Ham, and Arugula
This recipe is great for entertaining an intimate gathering. Serve with fresh bread and any cocktail of your choice.
GOODMORNING! Start your day off with this frittata and rosemary potatoes. Serve with a side of freshly squeezed orange juice!
3. Artichoke and Arugula Pizza with Prosciutto
Want a healthier alternative to that Friday night pizza? Try this delicious recipe & serve with your favorite cider.
4. Garden Linguine with Ricotta
Mmmm. This delicious linguine is garden fresh with all of the necessary greens. Pick up a spoon & dig in!
I'm sure you've heard of chickpea hummus, but what about beet and ricotta hummus? One word: OBSESSED!